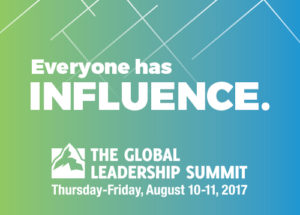 August 10 – 11, 2017 | Oakley, KS | Held at The Cave
Whether at church, school, business or home, you are leading people and projects every day. You're leading in a culture that is constantly changing and redefining itself. Leadership takes perseverance, dedication and a commitment to stretch your mind, expand your heart and use your God-given gifts to impact your world in real and powerful ways.
On August 10-11, 2017 you're invited to gather with thousands of leaders across North America for The Global Leadership Summit. Commit now to be a part of this annual event designed to stretch and challenge you with world-class speakers, interactive dialogue and practical training. We are pleased to host The Global Leadership Summit 2017.
Register for 2017 Today
Oakley Christian Church Members and Regular Attenders can register for a discounted price using the priority code given to us from Willow Creek. Contact Rhonda by email or phone (785.672.3188) if you would like the code.
OCC Member or Regular Attender
If you attend Oakley Christian Church and would like to register for The Global Leadership Summit, please enter the password you received in the box below and click "register."
Guest or Non-OCC Church Attender
If you do not attend Oakley Christian Church and would like to register to attend The Global Leadership Summit at this site, please register here.
*Please make sure that you answer the question for "Church/Organization Information" for your own organization and not for the host church.