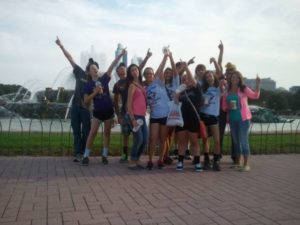 AUGUST 2 – 9, 2014
GOING TO CHICAGO to work with RESTORATION MINISTRIES!!
High School students that went on the the mission trip were: Kelli Ochs, Kaelyn VanEaton, Taylor VanEaton, Natalie Kroeker, Anastasia Force, Auston Holzmeister, Chloe Bley, Taylor Murphy, Wyatt Murphy, Reilly Ritter, Michael Maurath.
Adults that went on the trip were: Jason Schmidt, Shannon Plummer
Restoring People, Rebuilding Communities
Restoration Ministries is a thriving Christian-based organization located in Harvey, IL. It was established in 1988 with the sole purpose of helping men struggling with addictions. Today, Restoration Ministries serves all segments of the population with a special emphasis on at-risk, disadvantaged children and teens.
Restoration's mission is based on the familiar scripture verse from
Matthew 25:35-36:
For I was hungry and you fed me,
I was thirsty and you gave me drink;
I was a stranger and you invited me in,
naked and you clothed me;
I was sick and you took care of me,
in prison and you visited me.
Indeed, Restoration Ministries serves the least of our brothers by providing for their basic needs as well as offering hurting people life-changing opportunities. Last year, Restoration Ministries' staff and dedicated volunteers served more than 3,000 people through its 26 different programs.