Youth Group at The Cave
7:30 pm to 9:00 pm
BEGINS AUGUST 18, 2021!!!
HIGH SCHOOL YOUTH GROUP
For kids in grades 9, 10, 11, & 12
7:30 PM each Wednesday at THE CAVE, located on Main Street in Oakley (326 Center)
A great mix of getting together with friends while learning important truths from the Bible. Lessons, games, and hanging out are a big part of youth group at The Cave. If you have any questions about High School youth group, contact our Associate/Youth Minister, Jason Schmidt at jschmidt@oakleychristianchurch.com
HIGH SCHOOL SUNDAY SCHOOL
Every Sunday at 9:30 AM for all high school students (with middle school students); teacher is Jason Schmidt
Summer 2021 – Acuna, Mexico with Casas Por Cristo building a house for a family
Mission trips are a big part of the youth program at Oakley Christian Church! Students going into 10th, 11th, 12th, and graduated seniors are eligible to go on summer mission trips with OCC. The students hold an annual Valentine's Banquet as their main fund raiser for the mission trips.
If you are a high school student and are interested in going on the mission trip, please visit with Jason.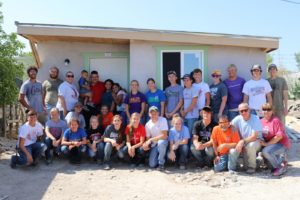 2018 Mission Trip: Acuna, Mexico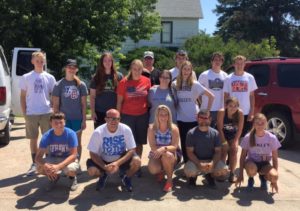 2017 Mission Trip: Long Beach, California
2016 Mission Trip: Destination Unknown
– The HS mission trip headed to CHICAGO to work with RESTORATION MINISTRIES!!
OASIS
OASIS youth retreat for High School students held in Manhattan, KS – we are waiting on a new date for 2021
SUMMER CHRISTIAN CAMP
OCC supports and attends summer Christian camp at Lakeview Christian Camp near Webster Lake. Summer camp is a great way for students to connect with others and grow their relationship with God. You can register online at www.lakeviewchristiancamp.org!